Day 19 – Campobello Island to Grand Manan Island
Day 19 – Campobello Island to Grand Manan Island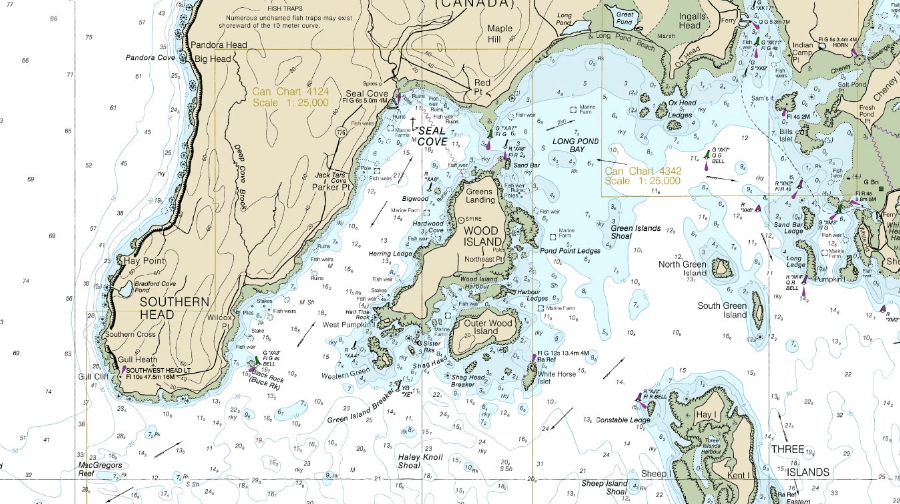 We started motoring after a quick breakfast, heading today for Grand Manan Island, another of New Brunswick's islands. The bay was flat calm, we waved goodbye to Lubec on our right, and Campobello Island on our left.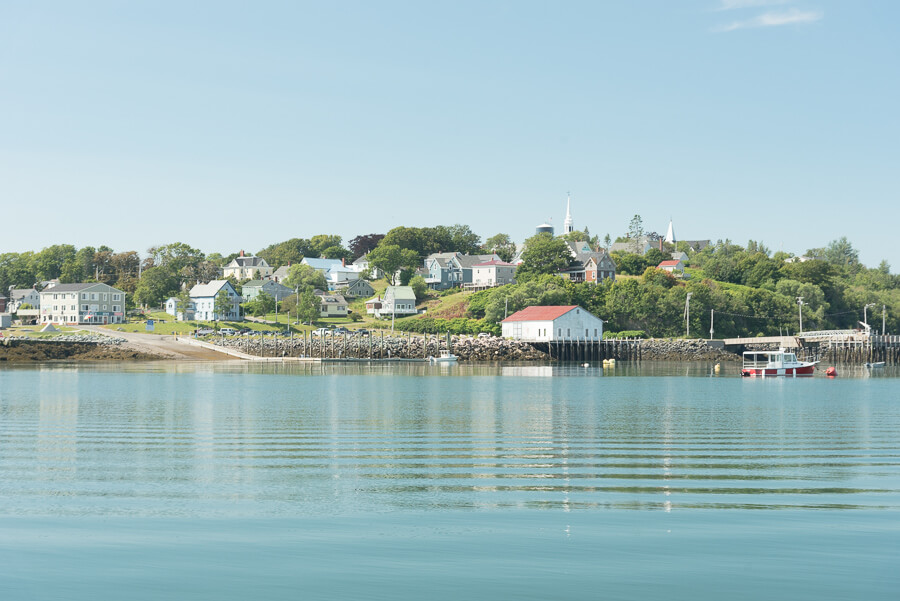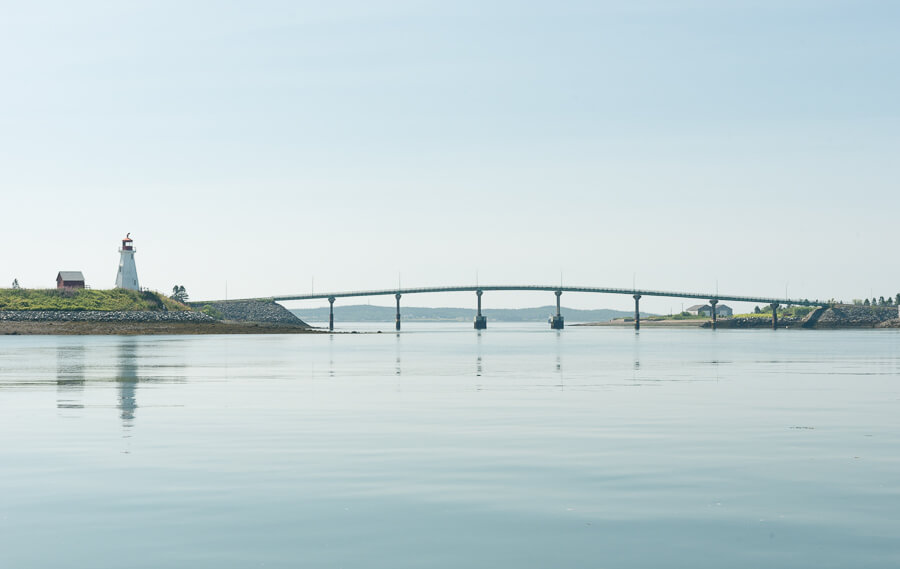 We passed under the FDR memorial bridge, this time with less excitement and more room to spare. A bald eagle watched us from the Lubec Channel Light as we headed back out to sea.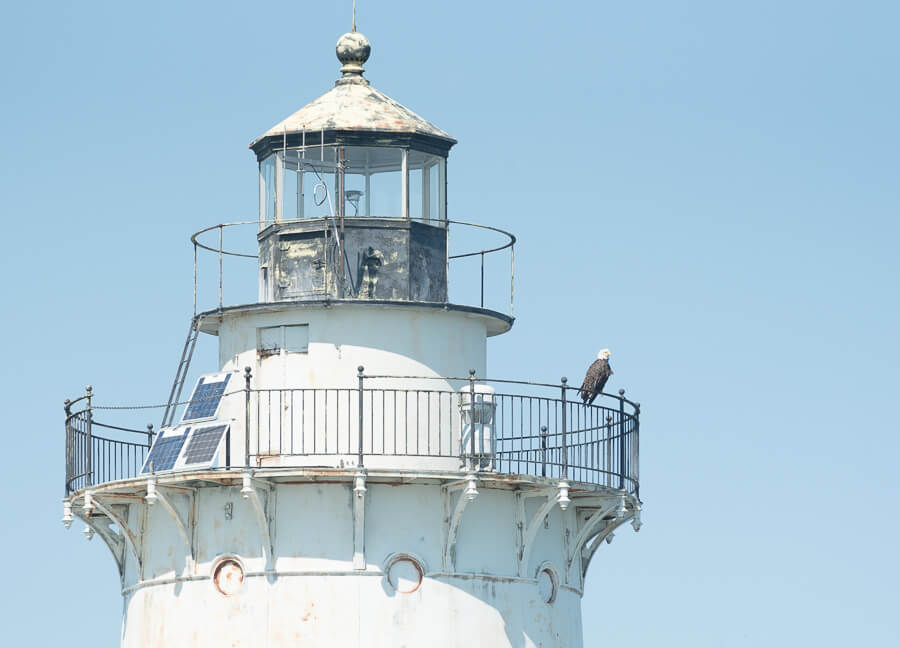 Sails up, we passed Quoddy Head and continued away from shore.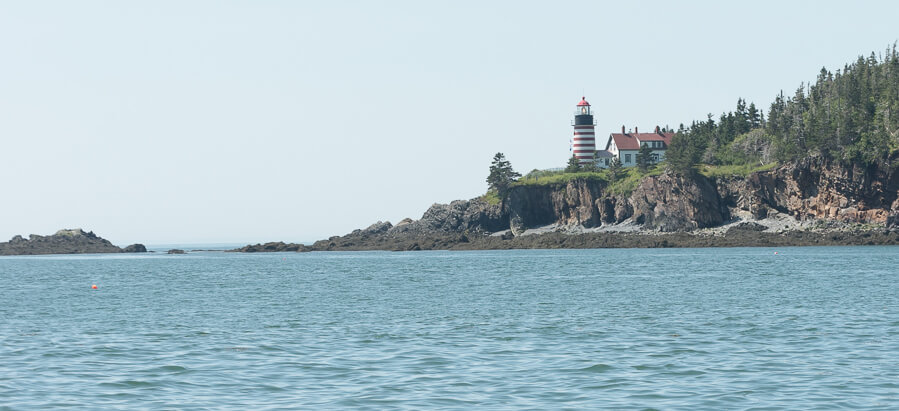 The wind eased and shifted, in reaction we motored towards the tall cliffs of Grand Manan's west shore. We approached the shore as the tide changed and we began to fight against it slightly.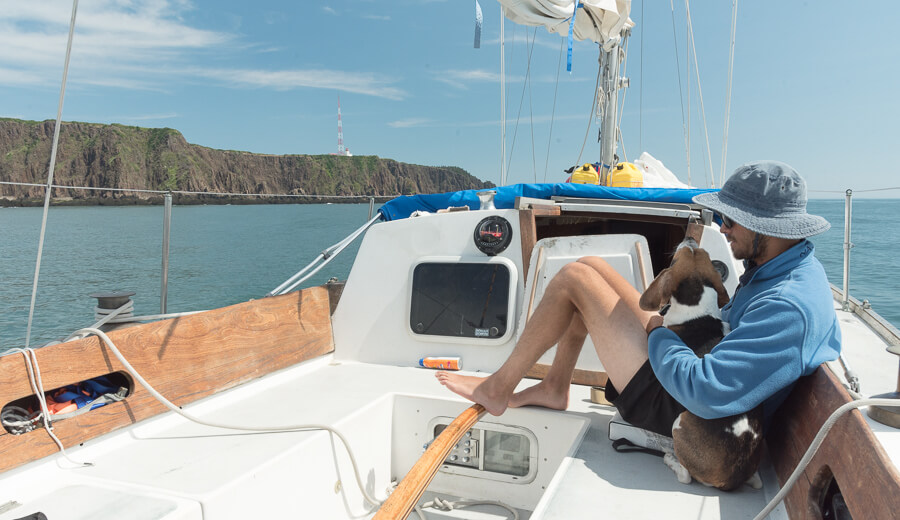 I enjoyed a quick cockpit nap under my hat while Andrew manned the tiller. I took over as we rounded the southern end of the island. A lobster boat overtook us on our port side, we waved over. One of the two men working, rather than waving, raised the largest lobster I've ever seen above his head with both hands. It must have been ten pounds.
We slowly sailed a run up to Seal Harbor. Once near the breakwater, we began looking for a place to park. We had read in the tattered cruising guide that one could tie up to commercial boats if willing to get up early. Hoping things hadn't changed in the forty years since the guide was written, we sought out a boat that looked unlikely to move. Within the breakwater the 50 foot boats were rafted up in doubles and triples; we slid down the rows until we found a single boat tied to the pier. We tied up and hoped we weren't taking another boat's spot.
Here the tides were larger than 15 feet. With a tide that large, and a fixed dock, it becomes pretty easy to rip a cleat off the boat, or worse. Imagine your 6 ton boat 10 feet lower than where it was when you set the lines to keep it close to the dock. Fortunately, the local fishermen are experts at setting lines for their boats, out of necessity. We set our lines as tight as we liked to our rafting buddy, and let her lines do the hard work.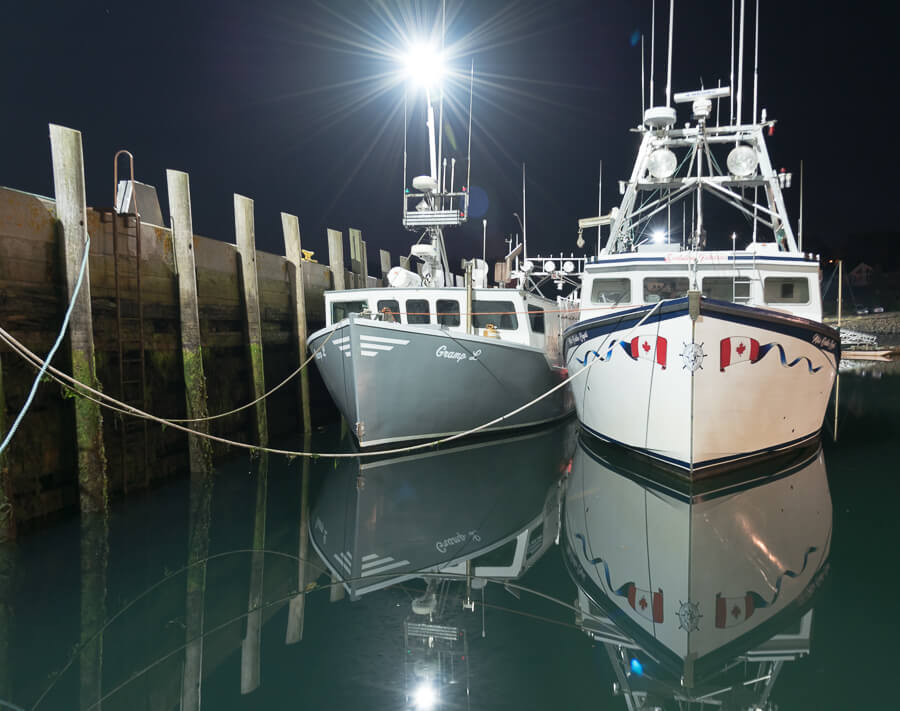 Isla secured, we hoped onto our neighbors deck and walked across her. I pulled with all my weight on the stern line until that end of the massive boat started inching towards the pier. This boat, and the others around it, was roughly 50 feet long, 25 feet wide, with 6 feet below the water. That puts a rough estimation of displacement at 100 tons. It moved, but slowly.
Now close enough to grab one of the ladders built into the side of the pier, we climbed up and walked down to solid ground. In the large parking area between the two breakwaters a sizable crowd was spectating a fishermen's contest. On a wide stage two young boys were competing to haul a trap across the lot and up onto the platform. The contest was a little underwhelming, but the crowd was encouraging. The announcer, a middle aged guy with graying hair and a strong Canadian Maritime accent, eventually took to making jokes about how he'd like to be smoking a joint if the mounties weren't there.
We walked around the village in search of a grocery store and gas. Finding neither, we took Caly up to the neglected baseball field. She ran around in her frenzied figure eights, delighted to stretch her legs and play.
We returned to Isla and hauled The Dingy up on deck to repair her, with fiberglass and epoxy this time. Up until this point, the duct tape had served surprisingly well.
While we made dinner below deck, a few guys appeared on our neighboring lobster boat. Andrew chatted with one of them for a second; they were moving gear to another boat, and they wouldn't be going out in this boat the next day. That meant we could pick our own start time for the long sail across the Bay of Fundy.